Join at the Intersectional Pollinators level
$125 monthly or $1,250 annually
Co—Conspirator Press
Supporter
Pollinators spread pollen from one flower to another, fertilizing the plant & continuing its life cycle to the next generation. Once a flower is pollinated, it produces fruit & seeds, which continue the life cycle and support life in the ecosystem.
At this level you are supporting
Co––Conspirator Press
, our in-house publishing imprint for artists, writers, designers, printers, social justice workers, and editors from historically underrepresented communities who use their voice to address intersectional feminist issues and challenge cis-hetero-patriarchy. You are helping to pollinate the minds of our extended network, so they can produce seeds of change to drop in their own communities, spreading the tendrils of intersectional feminism throughout our city and beyond.
The press is one of the ways we create, produce & distribute our own transformative feminist media. Joining at this level means you're supporting a model of fair distribution of royalties and ownership to authors; a book process that honors the author's vision and intention; and the dissemination of important stories, poems, tools and knowledge from brilliant minds and hearts.
Every member at the Intersectional Pollinator level will receive the physical, printed copies of new Co––Conspirator Press publications to come out that year.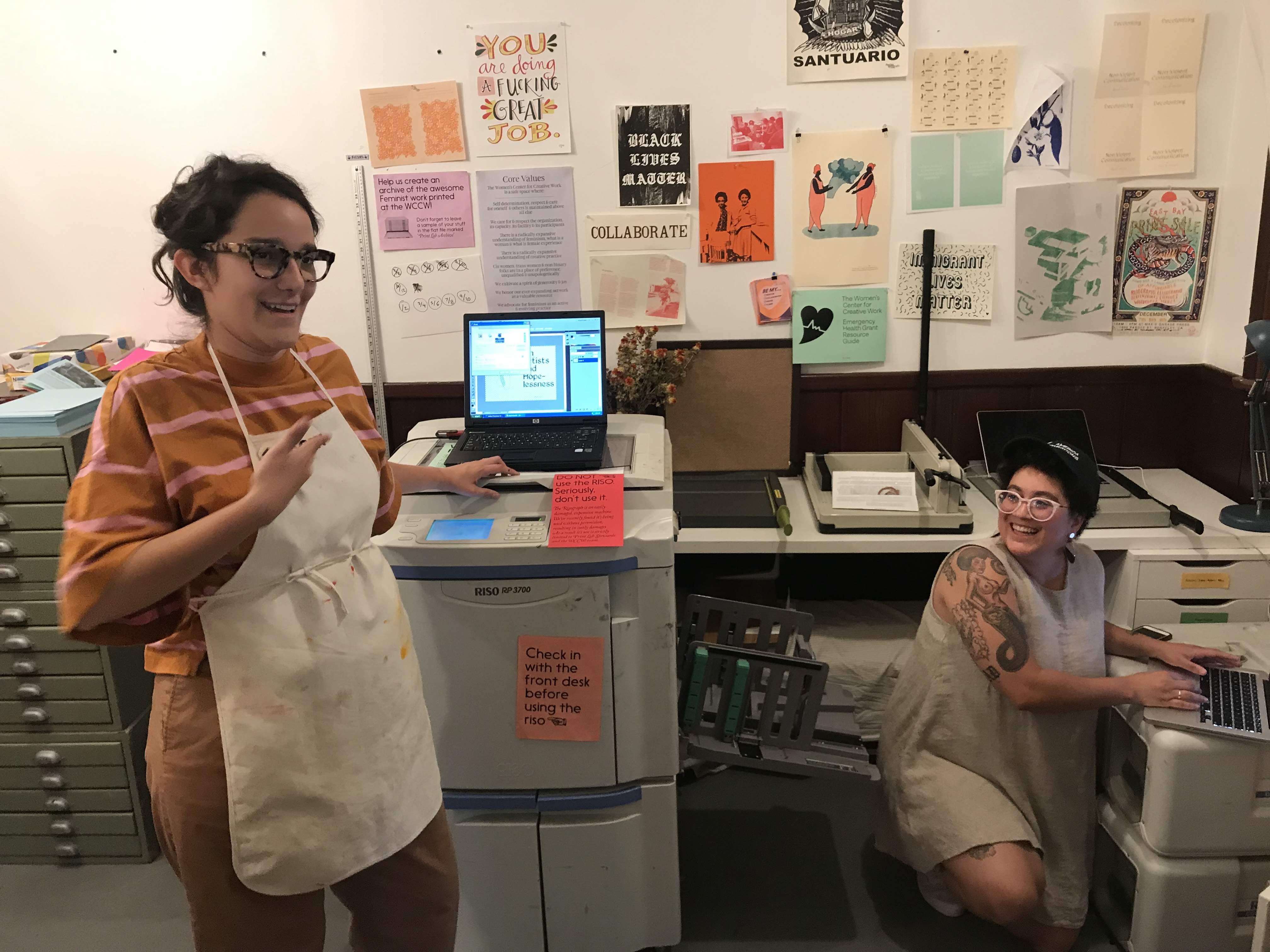 Intersectional Pollinators Perks
20% Discount on merchandise

Subscription to Member's directory

Subscription to our Friends with Benefits Program for discounts at local businesses

Access to our private social media platform, Feminist Community Network

Free Digital PDFs of all Co–Conspirator Press Publications

Free access to FCCW digital programming archive

Free access to exclusive events with special guests

Subscription to SALIMA magazine

Free print copies of all new Co-Conspirator publications for the year, not including re-prints and new editions of previously published work

Intersectional Pollinators limited edition riso print
Note: This is the design for the print, but once they're printed on the risograph they'll look different — photos of the actual prints are coming soon!



Paradise Khanmalek
is a visual artist, writer, and graphic designer exploring science fiction, color theory, the fabric of reality, and the sensual richness of our world through digital and mixed mediums. Their general interests include science, cultural analyses, delicious food, and nature. They are Iranian American and from Los Angeles, California.
ON CREATING THE DESIGN
While making my illustration for the Intersectional Pollinator print, I was inspired by the actual pollination process in nature, especially with flowers. I visualized single units of pollen as the star shapes repeated in the center graphic. I felt called to represent flowers and abstract pollen inspired shapes in a flat minimalist style inspired by traditional Iranian textile and carpet design that I regularly draw inspiration from. I have also been investigating the parallels between natural micro units in physical reality (like pollen and even atoms and subatomic particles) with digital units (pixels). I included the portrait in the center to incorporate a human element into the pollination/garden theme. I wanted to illustrate the idea that humans can pollinate one another, lift each other up, and grow healthy grass roots communities the same way flowers in a garden can.